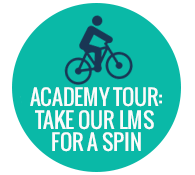 Hopefully we've piqued your curiousity. The next step is to take a guided tour of the Academy, so you can see all its delights for yourself. One of our Online Learning experts will be happy to take you through the Academy and all its features. They'll also be in a position to discuss how the Academy may fit into your organisation and what kind of effects it may have. This is a chance to:
Get up close and personal with our Gamification features. Check out what leaderboards, badges, achievements and much more could do for you and your business.

Take a look at some of the neat social features, including a constantly updating dashboard, dialogue stream and social media integration.

See first hand just how easy it is to navigate the Platform and how online learning could make a real difference.
By answering the questions in the form to the right, we'll be able to tailor the demo to you and your business needs.